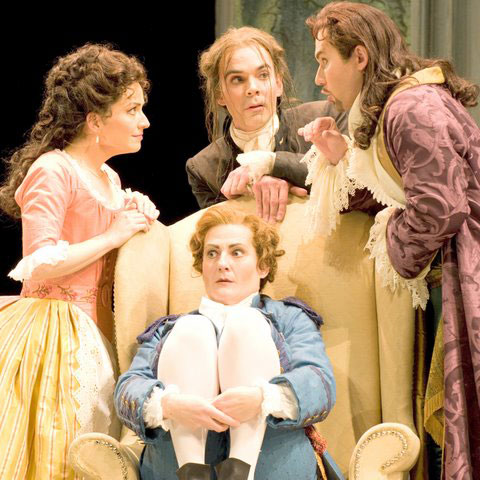 One of the year's most memorable and entertaining musical events will be presented on Saturday, September 21 at 7 p.m. in Hot Springs, Arkansas as Mozart's "The Marriage of Figaro" is performed during The Muses Creative Artistry Project's sixth annual Opera Gala.

The Marriage of Figaro is an opera buffa (comic opera) set in Count Almaviva's castle in Seville in the late 18th century. It is based on Beaumarchais' 1784 play La Folle Journée, ou Le Mariage de Figaro, a sequel to his earlier play, Le Barbier de Séville (The Barber of Seville), familiar to opera lovers through Rossini's great opera. In Le Barbier, Count Almaviva, with substantial help from Figaro, wooed and won the lovely Rosina away from her crusty old ward and would-be husband, Dr. Bartolo. In The Marriage of Figaro, Beaumarchais continued their story. The Count has married Rosina, but their marriage has gone sour because of his philandering. Figaro, no longer a barber, is now the Count's major-domo. He is engaged to Susanna, who is Countess Rosina's maid - and the Count's intended conquest. With the help of the slimy music-master, Don Basilio, the Count hopes to revive his feudal right of "First Night" with the young bride. Adding to the fun are a lustful teenager, a cast of country maids, multiple disguised identities and unintended amorous encounters. Much happens on a single "folle journée" — a day of madness.

This fast-paced and entertaining production is not to be missed! However, for those unable to attend the Gala on Saturday and would like to attend the opera and support the arts in the local community, The Muses will present a preview performance on September 20 at 7 p.m. All proceeds from this fundraising event will help build The Muses Cultural Arts Center Capital Improvement Fund.

On Sunday September 15 at 3 p.m., as a prelude to the Opera Gala, the gala vocalists will perform some of their favorite arias and duets at Garvan Woodland Gardens' Anthony Chapel. Entitled "Opera Classics," the concert is part of the Muses' Four Seasons in Art and Song concert series held at the chapel. Tickets are $25.